Here's my review of the amazing,
IRON KING by Julie Kagawa
Meghan Chase has a secret destiny; one she could never have imagined.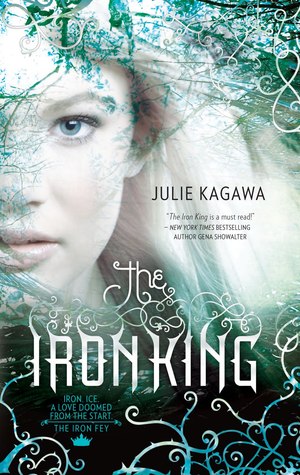 Something has always felt slightly off in Meghan's life, ever since her father disappeared before her eyes when she was six. She has never quite fit in at school or at home.
When a dark stranger begins watching her from afar, and her prankster best friend becomes strangely protective of her, Meghan senses that everything she's known is about to change.
But she could never have guessed the truth - that she is the daughter of a mythical faery king and is a pawn in a deadly war. Now Meghan will learn just how far she'll go to save someone she cares about, to stop a mysterious evil, no faery creature dare face; and to find love with a young prince who might rather see her dead than let her touch his icy heart.
How do I even begin to sum up this book . . . ?
As I always do when I'm reviewing a book, I try my best to find the pros and cons of the story. Once I found my way to the last few chapters, I put the book down and thought, Alright Cambrie. You better find something remotely not-so-great with this story, because when you review it, you need to say more than, "THIS BOOK IS PERFECTION." Now that I've completed my first book by Julie Kagawa, I've come to the conclusion that, this book is perfection!
The story begins with an ordinary teenage girl, Meghan Chase. Meghan has lived a normal life, but hasn't felt normal. Meghan comes home from school one day, finding her mom lying on the ground and her harmless little brother standing over her body. However, it's not her brother, Ethan anymore. Ethan has been kidnapped, replaced with a vicious changeling. Amiss this surprise, Meghan goes on an adventure to find her brother, and realizes that there's a lot more to the human world than meets the eye. There's this alternate universe, the Nevernever, that houses wondrous scenery, beautiful creatures, and horrible secrets.
In the hunt for her brother, Meghan discovers that her best-friend, Robbie, is an ancient, powerful faery, who has been protecting her her whole life. In addition, her father, whom she assumed was dead, is a faery king. Meghan meets many interesting characters as she searches for her brother, and runs into many dangers along the way.
The magical world Julie Kagawa has created is astounding. The Nevernever was written so detailed and beautifully I completely fell in love with it.
The characters --- ahh! Puck and Ash both have my heart! I don't like love triangles, but I really enjoyed this one. If I had to pick one of them for Meghan, I wouldn't be able to choose. Puck is certainly more admirable (at least for me), because he's been alive for decades, and is invincible. Ash came across as more human. He can be hurt, he can fail, unlike Puck, who I found to be more like this fantastical hero. Ash is a extremely handsome Prince, with a forbidden love for Meghan. As for Meghan, I enjoyed her through and through. I never found her annoying, unlike most protagonists I've been reading about lately. Her character build was very obvious, and I certainly enjoyed that.
All in all, I'm so glad I've read something by Julie Kagawa. Can't wait to read more from her!