My review of the breathtaking, City of Heavenly Fire . . .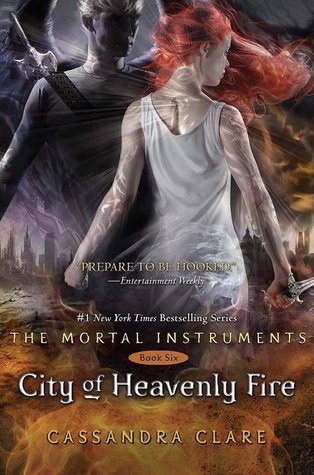 Insight into the book from Goodreads:
In this dazzling and long-awaited conclusion to the acclaimed Mortal Instruments series, Clary and her friends fight the greatest evil they have ever faced: Clary's own brother.
Sebastian Morgenstern is on the move, systematically turning Shadowhunter against Shadowhunter. Bearing the Infernal Cup, he transforms Shadowhunters into creatures out of nightmare, tearing apart families and lovers as the ranks of his Endarkened army swell.
The embattled Shadowhunters withdraw to Idris - but not even the famed demon towers of Alicante can keep Sebastian at bay. And with the Nephilim trapped in Idris, who will guard the world against demons?
When one of the greatest betrayals the Nephilim have ever known is revealed, Clary, Jace, Isabelle, Simon, and Alec must flee - even if their journey takes them deep into the demon realms, where no Shadowhunter has set foot before, and from which no human being has ever returned...
Talk about starting the New Year right! I'm thrilled to have spent the last few hours on this cold Arizona night, finishing the final installment of The Mortal Instruments. City of Heavenly Fire couldn't have possibly been executed any more excellently. To be quite honest, I'm coming to a loss of words of how to review this stunning book.
City of Heavenly Fire features some of the bravest, and strongest characters in the YA genre. Clary, Izzy, Jace, Alec, Simon, and Magnus. Not to mention, two lovely characters from The Infernal Devices, Tessa and Jem, who are also featured in this story.
The Shadowhunter world is under attack, from Sebastian Morgenstern. A smart, and cunning boy that has found a way to turn Shadowhunter's into thoughtless monsters. He uses this advantage, causing Downworlder's to question their alliance with the Shadowhunters, and begins one of the greatest battles in Nephilim history.
It was quite enjoyable to connect with some of the old characters. Especially because I read City of Lost Souls two years ago, and to my surprise, it wasn't difficult to get back into the series. Many new characters were also introduced, and they were very easy to connect with. I off the charts love the romance in this series. Even though there's been a love-triangle, it's never bothered me the way most love triangles do. Clary and Jace's relationship is so strong, and their love for each other is simply infinite. Simon and Izzy - I've been wanting them to get together for so long. Their conflicting attitudes, and their differences didn't matter, because they loved each other and it was seriously the cutest book relationship. As for Alec and Magnus, I think both of them need each other, and they're sincerely great for one another.
This gif was me an hour ago, as I thought back on all of the heart-wrenching twists, the romance, and the suspense City of Heavenly Fire had.
As you can see, I've had a difficult time coming up with words to summarize the fantastic, final installment in The Mortal Instruments. All you need to know, is that this series will leave you with your jaw-dropped, and a smile on your face. Because The Mortal Instruments, and The Infernal Devices, is an overpoweringly, satisfying series.