"And sometimes, hope is the only thing that gets us through the day."
Here's my review of,
The Immortal Rules,
by
Julie Kagawa . . .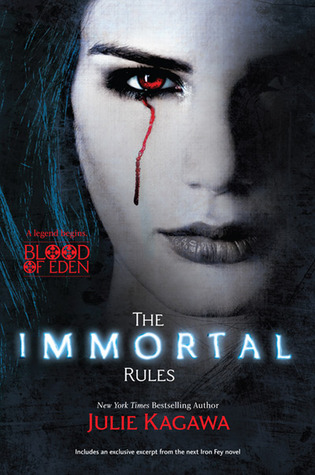 Insight into the book from Goodreads:
To survive in a ruined world, she must embrace the darkness…
Allison Sekemoto survives in the Fringe, the outermost circle of a walled-in city. By day, she and her crew scavenge for food. By night, any one of them could be eaten. Some days, all that drives Allie is her hatred of
them
—the vampires who keep humans as blood cattle. Until the night Allie herself dies and becomes one of the monsters.
Forced to flee her city, Allie must pass for human as she joins a ragged group of pilgrims seeking a legend—a place that might have a cure for the disease that killed off most of civilization and created the rabids, the bloodthirsty creatures who threaten human and vampire alike. And soon Allie will have to decide what and who is worth dying for… again.
Enter Julie Kagawa's dark and twisted world as an unforgettable journey begins.
Need I say, that Kagawa has done it again? Another fabulously complex, and highly addictive story.
I'm naturally wary of vampire books, being that I've never read a satisfying one, until now.
The Immortals begins with introducing us to a human, Allison. She's been living on the fringe of the vampire city, fending for her life and others from vampires and rabids. Loyalties are tested within the first few chapters, as is the fight for
humanity.
When Alli finds herself in a fight with rabids that she can't win, a vampire comes to her and offers a choice. Become a vampire, or die. She chooses to become
the one thing she fears the most,
knowing that given the option, she'll never choose death.
I instantly connected with Alli. She's a leader and a fighter, two things that are quite substantial in YA characters. Also, she didn't overshadow any of the secondary characters, allowing me to connect and become engaged with
basically
everyone introduced. Besides Allie,
of course,
I found myself really intrigued by Jeb, Zeke, Jackal, Kanin, and Ruth. Each of them had something distinctly different about them, making them remarkable. I was always in awe by how
fierce
Jeb, Ruth, and Zeke were. Being humans, they've always feared and
hated
vampires, never straying to the possibility they have
any
humanity in them. Zeke soon learned, however, that not all vampires are evil, but Jeb and Ruth remained indifferent. Somehow, their belief for one thing was frantically annoying at times, but also interesting. Kanin -
ohh my gosh
he's amazing. I enjoyed his attitude, never sugar-coating anything. It made the book more frightening, but also more believable. I've got many mixed feelings for Jackal, on the other hand. He's part badass, part jerk. Interested to see what kind of havoc he'll bring in book two. Zeke and Allie's forbidden romance is one of my favorite things about this book, and I can't wait to see what happens to them in
The Eternity Cure.
The Immortal Rules is a high-paced vampire read that
will leave you wanting
more.
I'm incredibly pleased with how this series has started out, and can't wait to finish
The Eternity Cure.
Big s/o to my best friend for buying my
Forever Song
! Marathoning series is one of the great pleasures of reading. :)
If you haven't read
anything
by Kagawa,
go to the bookstore
now
and pick up one of her books!