My review for Talon, by Julie Kagawa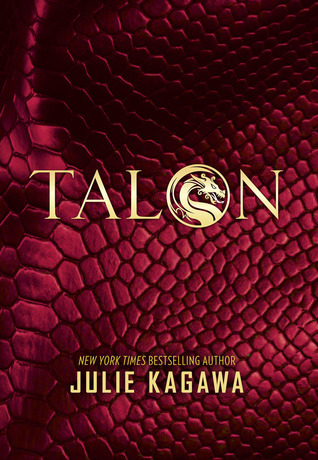 Ember and Dante Hill are the only sister and brother known to dragonkind. Trained to infiltrate society, Ember wants to live the teen experience and enjoy a summer of freedom before taking her destined place in Talon. But destiny is a matter of perspective, and a rogue dragon will soon challenge everything Ember has been taught. As Ember struggles to accept her future, she and her brother are hunted by the Order of St. George.

Soldier Garret Xavier Sebastian has a mission to seek and destroy all dragons, and Talon's newest recruits in particular. But he cannot kill unless he is certain he has found his prey: and nothing is certain about Ember Hill. Faced with Ember's bravery, confidence and all-too-human desires, Garret begins to question everything that the Order has ingrained in him: and what he might be willing to give up to find the truth about dragons.
Talon is a fantastic, complex story about dragon twins, Ember and Dante Hill. Ember and Dante have lived their lives, until now, under the surveillance of Talon. They've just been granted the Summer in Crescent Beach, to enjoy freedom before beginning whatever career Talon has deemed fitting. Ember and Date shift into human form, and easily fit right into the human community. It is there that Ember becomes acquaintances with an incredibly handsome rogue dragon, and a human with more secrets than she imagined. Riley, the rogue, has left Talon, and hopes to persuade Ember to do the same. Garret, the human, stirs a passion inside that she didn't know existed, but it will come with a cost.
Upon choosing to read this book, I didn't know a thing about the story-line. All I knew, is that Julie Kagawa has come out with a new book and I wanted it! Whenever I see Julie's name I think . . .
Because I seriously love her writing. I've only read some of her books, but such a brilliant writing style like hers really stands out. As for the story itself, it was good. Not great, just good. After the excitement of Ember being a rebel with Riley and falling for Garret wore off, the book was boring. However, normally that irritates me, but in this case, some of the slower parts were necessary for character build. In addition, the complexity of the plot and how terrifically Julie pulled it off, was awesome.
Usually, I'm let down with the romance in teen books. Either it's insta-love, or an annoying love-traingle. I didn't expect to be let down with the romance in Talon, and I wasn't! It was really enjoyable and I still can't chose who I like more, Riley or Garret. With every character I saw lots of development, and that was also really enjoyable.
I recommend this book and every book by Julie Kagawa to anyone who wants to read a fast-paced fantasy story!
Hope everyone has a great week!